My friend Marcus Brown dropped something on his ankle. That put a hitch in his gait and threw out his back. He can stand. He can ride a bike. But walking ties him up tighter than a knotted up pair of long undies that got dipped in boiling wash water.
He gave me a call and reminded me of a promise I had made.
The Lansing Yacht Club
The Lansing Yacht Club (
Map
) is sandwiched between Robert Sinto Conveyor Corporation and the Grand River. It is attached to Lansing's Grand River Park.
Most of the park is undeveloped. It is not located near any residential neighborhoods. Budgets are always tight and developing Grand River Park has never been a priority.
Approximately three acres is coming up with crabapple seedlings. Most of those seeds probably came from birds that had feasted on the ornamental crabapples growing on the Robert Sinto property but there is also a feral apple tree in the middle of the park that may have contributed some seedlings as well.
My promise to Marcus was to give him a lesson on grafting fruit trees. An intensive lesson. Those crab apple seedlings were our rootstock.
Marcus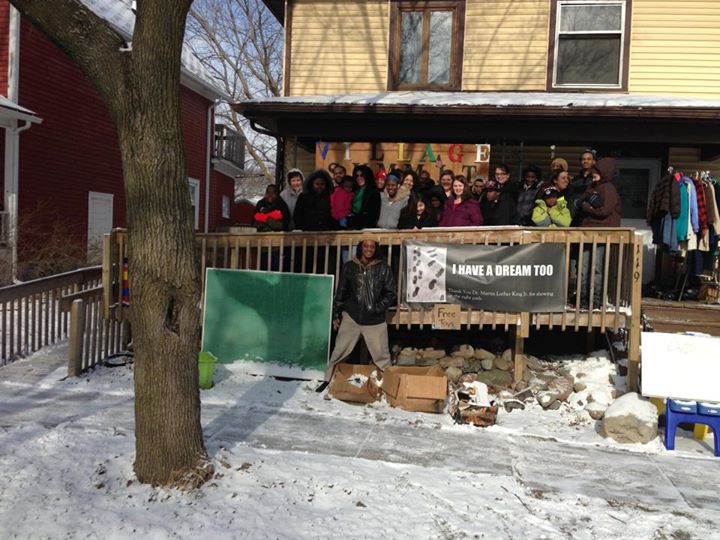 Marcus is a Marine. Marcus is also one of the principals in a community center called
The Village Summit
.
It is a little bit hard to describe the kind of person Marcus is. He becomes personally invested very quickly. I watched him march half-way up his block to address a squabbling couple. Most people would have ducked into their houses and let them work it out. Marcus was offended that the tranquility in his block had been harshed. And, as a practical matter, having an adult intervene puts a damper on escalation.
He helps kids with homework. He gives them activities to keep them off the streets. He gets involved. He looks at situations that he knows he can make better....and he cannot stop himself.
And Marcus is a gardener.
Grafting
Grafting is like many things. Once you have a firm grasp of the essentials you can take a lot of shortcuts. But when you are a beginner, you want an absolutely bulletproof procedure that will ALWAYS work. That is what I showed Marcus today.
Three trees with pink surveyor's tape in the background. Pink ===> Liberty apple. These are grafted up high to avoid the majority of deer browsing.
There is Marcus, cane at his feet, grafting up a storm. Between the two of us we top-worked 23 crabapple seedlings. We marked them with pink and green surveyors tape so we could find them later.
If you click on this picture and look at it in high resolution you will see about ten of the green surveyor tapes fluttering in the breeze. For some reason the pink tape does not have enough contrast to show up in the picture.
We plan to go back and finish the job.
Follow-up post